Collisions
(aka 'WHAT GOES ON IN MY BRAIN!?')
Chapter 5:
Unity
Quick note from the author: This is some random story that combines a bunch of characters from old movies into one...and into modern times. Enjoy. Expect total randomness and complete lack of sense...just have fun. This is called 'Collisions' cause everything collides...

So here I present to you...
A Fanfiction by WaverlyHillsFan
The dark room was almost entirely silent, with exception of the occasional atmospheric crack that let others in. Jane and Blanche were still trying to figure things out. Jane was clearly tired, her eyes going from half open to shut, half open to shut on and on. The silhouette of a man with what appeared to be a man was cast onto the wall adjacent to Blanche.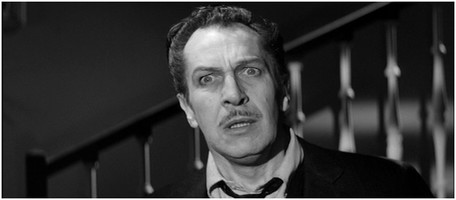 He came closer and closer, walking in what sounded to be heel to toe. Eventually, his face came into clear site. It was Dr. Robert Morgan, who was supposedly the last man on Earth (not now, anyways...prior to when he got warped).
"Where's Virg?" he asked in his deep sort of voice.
"Say whoosa whatsa?" asked Blanche.
"My wife, Virginia. I call her Virg. I was hoping that through this whole teleportation thing that I'd find her. I guess not."
"What happened to her?"
"She died of a virus."
"Oh."
Meanwhile, in another corner, Mortimer Brewster and his wife, Elaine, were confused as to what happened. Judy Foster, who had lived in Santa Barbara, California, was also in that corner. Velvet and Mi had also crash-landed there.
It seemed that Judy Foster had collided with Mi upon landing after being sucked through the vortex. She was hurt a little, but not bad.
She looked at her best friends, Ogie and Carol Pringle. Ogie was quiet. He didn't want to talk about what had just happened - probably just hoping it was just a bad dream.
"What the heck!? Look at that girl!" exclaimed Judy, pointing at Velvet.
Carol was in shock at Velvet. She approached her, mouth agape. It looked as if she had seen some kind of ghost.
"You look so familiar...do I know you!?"
"Nope."
"Are you sure!?"
"Yes...but you do look
extremely familiar
."
An atmospheric crack, as usual, ripped through the room. This time, the entire Von Trapp family came falling through the dark hole.
"...sixteen going on seventeen...WHAT THE..." cried Liesl.
It seemed as though the teleportation was relatively quick, as the Von Trapp family was caught in the middle of song...as usual. Maria, for whatever reason, had a machine gun in her hands, probably stolen from a Nazi officer.
"AGAINST THE WALL WITH YOUR HANDS UP!" she shouted.
Everyone did as ordered. What had happened since they left Austria? Bad Swiss cheese? Too much time spinning in the mountains? Altitude sickness? Whatever it was, Maria had gone entirely crazy. A "loony tune" quote Kurt.
Ogie interfered with Maria, grabbing her shoulder tightly. He had a frown on his face.
"What's wrong with you, woman!?" he snapped.
"YOU GIVE YOUR COMMANDING OFFICER A COOKIE!" she barked back.
Liesl was busy tending to her father, who seemed to have suffered from a concussion.
"MEDIC!" called out Maria.
Dr. Einstein came forward. He had known Mortimer Brewster and his brother, Jonathan, quite well.
"I'm a doctor."
"GET OVER HERE! YOU DON'T TALK BACK TO YOUR SUPERIORS!"
The doctor had dealt with a lot of crazies...mainly Teddy Brewster, who thought he was Teddy Roosevelt.
Pretty soon, this attracted the attention of everyone in the room. Janice Starlin came over to take a look.
"He doesn't look so good." said Robert.
"He broke his nose!" commented Blanche.
"The guy had a concussion!" screamed Judy.
"Will he be alright?" asked Velvet.
"SHUT UP AND LET THE DOCTOR DO HIS BUSINESS!" responded Dr. Einstein.
"YOU HEARD THE MAN! GET AWAY! TWENTY PUSH UPS EACH OF YOU! I MEAN IT! GO! GO! GO! WE'RE BURNIN' UP OUR TIME!"
"But I don't have a watch." Marta retorted.
"I DON'T CARE! FORTY FOR BACK TALK,
MISSY
."
Blanche rolled herself around in circles and screamed. She thought Jane would be the only cuckoo she'd encounter in life (other than the cuckoo clock in the house, of course).
To be continued...